Matthew Halliday MBCS – Director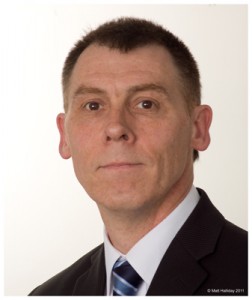 Update: 27th Mach 2015:
My latest contract has now come to a close, so I am currently available.
I have worked in IT professionally since 1998 but started out in computing at college in 1980 on a PDP11 and throughout the following years in engineering, came into contact with computers frequently.  I was introduced to Unix whilst working at Crosfield Electronics in the early 90's on Sun Solaris and Sparc Stations.  That got me interested in the Unix environment and I went on to encompass HP-UX, SCO, and various flavours of Linux.   I was an inaugural member of the Peterborough LUG!
At this time I had a small home network running with NT4 and Windows 3.11
Following redundancy from Crosfield after 7 years service, I decided to make IT my career.  Using my redundancy money to retrain, I took the plunge and have enjoyed where it has taken me.  I love technology and technical development, however I do think sometimes we are over-reliant on it and technology is developed or implemented for technology's sake, not for productivity or efficiency.  There are often far simpler and more cost-effective methods of implementing a system
Whilst working at Crosfield I had an opportunity to see first hand the interaction between computer and machine, and that got me interested in Industrial IT.  That became an interest that I carry to this day.  Whilst working in newspaper printing I got involved in data acquisition and analysis (DAQ) and whilst trying to improve quality and efficiency, reducing waste and tracking material manufacturing and waste issues through data analysis, I developed a data warehouse to pull in production data from sites across the UK that used a variety of control systems and data sources – from Excel and text files to SQL Server and ADABAS, and was then able to analyse the data both nationally and locally.  At the Peterborough Web site we began to look at newsprint waste and linking the press control and mailroom systems together.  Once both were logging to the same database we could  look at where we were loosing productivity and generating waste.
Other
https://www.linkedin.com/in/matthallidaymbcs
Personal
I am married to Carol – 2015 is our silver wedding year!  We have 3 great kids.
Interests
I love technology in all its forms, and an interested in developments and advances not only in my own field but many others.  I love science and technology programs on TV, however we all need to switch off sometimes and do other things.
Italy.  We have an on-going love affair with Italy and have taken our holiday there for the last 9 years, particularly in Umbria and Abruzzo.  We would love to work and live there.  Ahh, well.  Maybe someday.
Kingsgate – We have been members of Kingsgate Community Church since 1990..
Photography – My passion since the age of 16.  I currently shoot with a Canon 7D and a 5D MkII with an assortment of lenses.  I shoot for Peterborough City Rowing Club where my son has been a member for 4 years, with my photos regularly appearing in the local paper during the competitive season.
http://www.peterboroughcityrowing.co.uk/
I also shoot for my wife and one of my daughters when they do riding.  I love architectural photography but also a whole range of subjects so long as the image is interesting.  I'm still learning and love being out and about with a camera and after so many years, am still in love with it.  You can see some of my photos here:
https://www.flickr.com/photos/mhfotografica
Formula 1 – long-time Jenson fan.
Social Media – Nope.  Don't do it.  No interest in it at all.  I have a Twitter account but rarely use it.  LinkedIn is my limit.